When Ford, General Motors, Mercedes-Benz and other auto manufacturers last year pledged to phase out sales of gas and diesel vehicles worldwide by 2040, the most immediate impact on commercial real estate came in the form of multibillion-dollar plans to build domestic factories and battery plants.
But there is more for commercial real estate to facilitate and capitalize on, and it starts at home.
Friday marks one Earth Day closer to the 2040 goal and projections that about half of all cars on the road will be electric in 2050. As adoption becomes more common — 1.8 million electric vehicles were registered in the U.S. in 2020, three times the number of EVs in 2016 — more people need more access to charging, and multifamily developers and owners have fallen behind the rate of adoption.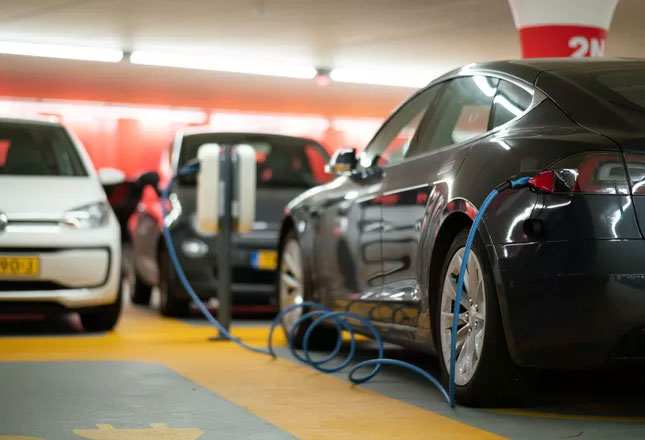 "The way we characterize the problem is going to evolve over the next couple of years as EVs become more and more widespread," said Don MacKenzie, an associate professor of civil and environmental engineering who leads the University of Washington's Sustainable Transportation Lab. "Rather than this being a problem for people who want to own EVs, this is going to be a problem for landlords and building owners and developers when they realize that they are unable and they have not prepared themselves to provide an amenity that many residents have come to expect."
Most electric vehicles have been sold to wealthy, single-family homeowners, but EVs are becoming more of a legitimate option for more drivers, and 56% of respondents to a 2021 CarMax survey said they expected their next auto purchase to be an electric or hybrid vehicle.
Public funds are behind the EV adoption and infrastructure build-out push. In addition to federal, local and state subsidies for drivers buying electric, the Biden administration's Infrastructure Investment and Jobs Act established the National Electric Vehicle Infrastructure Formula Program, which is tasked with deploying $5B over five years to help states fund public charging infrastructure, especially along the interstate highway system.
NEVI has another $2.5B available for a discretionary grant program to support deployment of rural chargers and infrastructure in underserved communities, among other priorities.
But as EV adoption becomes a more viable option for more people, owners of apartments and other multifamily properties waiting for federal money to trickle down to them aren't positioning themselves for rapidly increasing renter demand.
"In the multi-unit dwelling setting, we actually think that the market is behind adoption interest," McKinsey & Co. partner Shivika Sahdev, who leads the firm's Center for Future Mobility, told Bisnow.
She said the profile of the prospective EV buyer is shifting, and not just along income lines.
"We're also seeing folks that live in different types of settings showing interest in buying EVs, and for them, the biggest enabling factor is access to charging," Sahdev said. "It continues to be one of the top three barriers to adoption for an individual."
McKinsey projects the overall EV charging market to be $100B in 2030, Sahdev said. Of that, $43B will be spent on residential charging — a smaller percentage of the overall market because a single-family homeowner can buy a charger for as little as $200 while a commercial-grade Level 2 charger can cost $5K to $10K, and upward of $150K for faster, direct current chargers.
Of the $43B expected to go toward residential charging infrastructure, McKinsey predicts $2.5B will be spent for implementation at multifamily properties. Demand is expected to reach 27.4 million chargers in 2030, 1.4 million of which will be for multifamily properties.
Camden Property Trust, which owns and operates more than 165 communities with more than 59,000 units across the country, is among the large-portfolio multifamily owners that have begun to advance EV charging, but the process isn't simple.
"In our new developments, we're outfitting our garages with electrical service that can handle a substantial amount of cars," Camden Chairman and CEO Ric Campo said. "It's more challenging, for sure, in older developments where we have to upgrade our electrical service to garages and deal with those kinds of things."
He said that over the last five or six years, Camden has been laying conduit and making other preparations to streamline retrofitting properties when consumer adoption spurs tenant demand.
Planning ahead could have a significant impact on how much a developer has to spend to install EV charging equipment, so even though only about 1% of the global car stock is electric, according to the International Energy Agency, the time for developers to act is now.
"If you're planning a new development, I think it generally is going to be a lot cheaper because you don't have to go in and rip out a bunch of existing stuff and put new stuff in," said Adam Davis, a postdoctoral researcher at the University of California, Davis' Institute of Transportation Studies.
Retailers have made headlines by making charging locations available to customers. Simon Property Group was an early adopter, making a Level 2 charger available at an Orlando, Florida, mall in 2011. JPMorgan Chase just this month announced a partnership with provider EVgo to install chargers at 50 Chase branches around the country as part of a pilot program.
"I think it's finally getting to that inflection point where there's enough demand in the market coupled with the right scale of a company like EVgo where they can say, 'This is how we want to do it,'" JPMorgan Chase Head of Real Estate John McGinley said. "It's a little more amenable to a Chase or another large retailer."
More public chargers will be necessary as mass adoption takes hold to make EV road trips more feasible as electric cars evolve into primary vehicles instead of secondary options.
But EV experts say home charging availability will be so critical that it is destined to be a determining factor in where many people choose to live.
"I think within 10 years, this will kind of flip into now the consumer has the power and they're choosing where they choose to rent — especially your higher-income renters, your luxury apartment [renters] — they're going to be choosing where they live based on where they can plug in their car," MacKenzie said. "So this could then become a liability for those who are not ready."