via CoStar.com
The mood remained sour last week, with inflation reaching a 39-year high in December and retail sales unexpectedly declining over the month. But much like the recent jobs report, the view of a full year of data paints a picture of robust economic activity, which, combined with supply shortages, resulted in overheated prices.
More specifically, the Bureau of Labor Statistics reported that consumer prices ticked up 0.5% in December over the month, ending the year 7% higher, while the less volatile core price index grew by 0.6%, or 5.5% higher than a year ago. The core price index excludes food and energy, which have seen large price gains recently.
Used car and truck prices, and to a lesser extent new vehicles, continued to drive inflation higher as the global semiconductor shortage hindered automobile production throughout the year. Anyone who did not buy a vehicle in the past 12 months likely experienced overall inflation of around 5.3% over the year.
Apparel prices grew by 1.7% over the month as shoppers saw fewer holiday deals — another category affected by supply-chain disruptions late in the year. Yet price growth in several categories edged lower. Energy prices, which drained disposable income from households throughout the year, fell by 0.4% in December. Rents and owners' equivalent rents each grew by 0.4%, ending the year up 3.8% and 3.3%, respectively. That's nowhere near the sizable increases in housing costs and rents we've experienced over the year, but it will take some time for these to be reflected in the price index.
Still, several signs point toward inflation nearing its peak. Without additional fiscal stimulus and with the end of the enhanced child tax credits, the outsize demand experienced last year for many categories of goods should return to normal. Indeed, the savings rate has returned to pre-pandemic levels. The exception would be for spending on restaurant meals, entertainment venues and travel, which have suffered from capacity constraints and COVID-related fears.
While consumers have suffered from sticker shock, their expectations of inflation continuing have begun to turn the corner. The Federal Reserve Bank of New York's survey of consumers' inflation expectations for one year ahead fell in December for the first time in 14 months, albeit the decline was by the smallest increment possible. Expectations for three years ahead remained flat but were 30 basis points below their peak in October.
Also, last week several Federal Reserve Board members pledged to make containing inflation a top priority. Most noteworthy was the statement delivered by member Lael Brainard at the Senate Banking Committee hearing for her nomination to vice chair. Brainard has in the past been perceived to have a more dovish stance, preferring to support the Fed's full employment mandate over its price stability goal. Chairman Jerome Powell took a similar stance at his own Senate Banking Committee hearing for his second term as chair. By the end of the week, that sentiment was echoed by several other members, including Christopher Waller, who suggested in a Bloomberg interview that four or five rate hikes could be possible by the end of the year if inflation persists in the first half of 2022.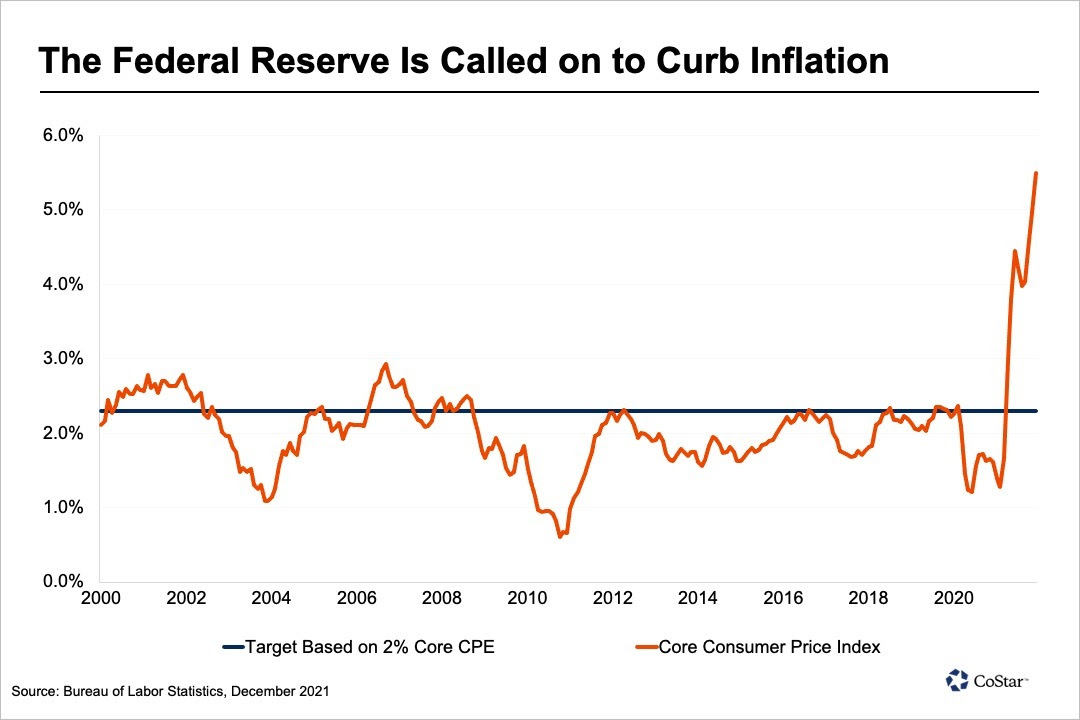 The Fed is also proposing to begin quantitative tightening this year in an attempt to shave its balance sheet, which has ballooned to almost $8.8 trillion during the pandemic, more than twice its balance in 2019. Of course, raising the policy rate to curb high levels of inflation while removing other supportive mechanisms invites the risk of applying too many tools meant to calm price increases while at the same time tamping down economic activity. With COVID infections raging again and supply chains still clogged, the Fed will need to monitor conditions carefully so that the economy avoids stalling.
Retail Sales Increased by All but One Measure
Fearful that supply-chain disruptions could cause a shortage in many key holiday items, many consumers shopped early and front-loaded purchases. Retail sales were consequently strong in October and November but fell unexpectedly in December by 1.9%, the first decline in five months. Seasonal adjustments were largely to blame, as December is usually a strong month for retail sales, and the pulling forward of purchases this year made the month's numbers appear worse than they actually were. Over the year, retail sales grew by 16.9%, according to the Census Bureau.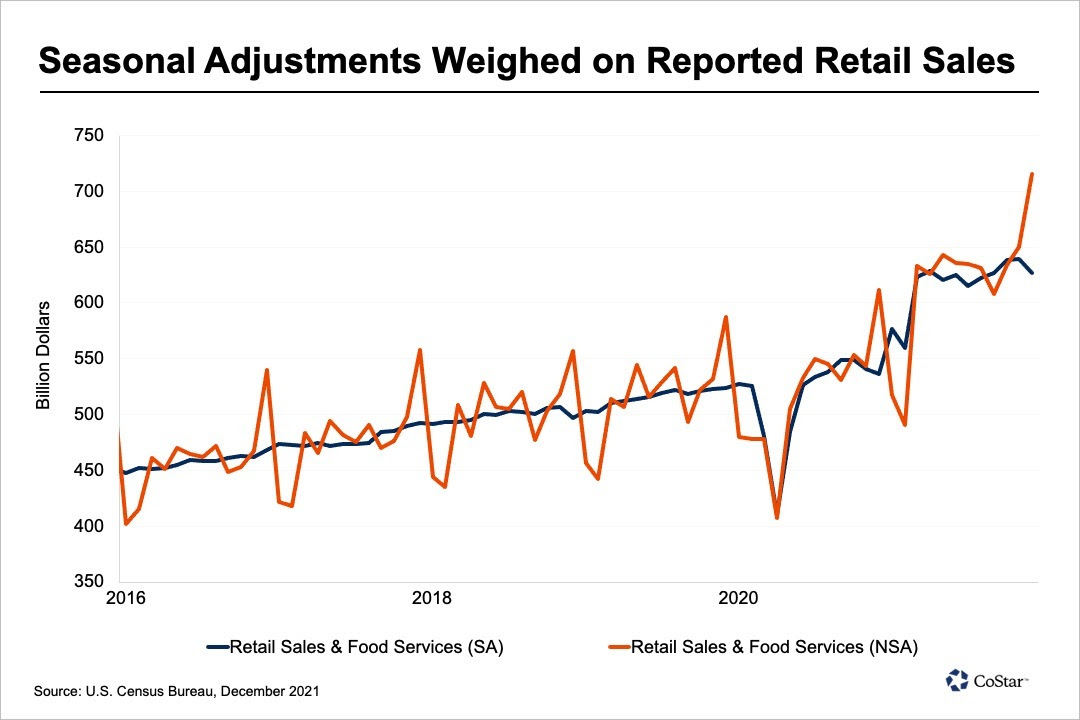 The largest drag on retail sales was due to the 8.7% fall in online sales, likely also due to seasonal adjustment factors. Sporting goods and furniture sales also fell significantly, a sign that perhaps consumers have had their fill of these pandemic-related goods. Meanwhile, sales at food service and drinking establishments fell by 0.8% in December. The spread of the omicron variant and rising hospitalizations disrupted reopening plans at bars and restaurants as holiday gatherings and celebrations were canceled.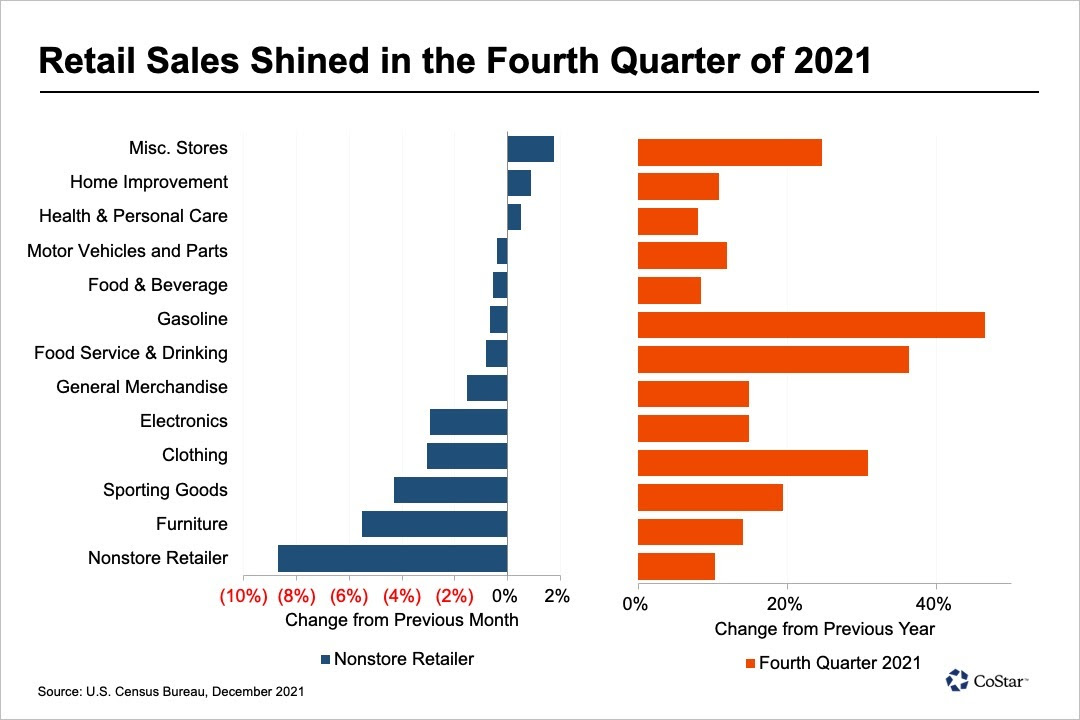 Putting seasonal adjustments aside, nonseasonally adjusted retail sales over the fourth quarter of 2021 were 17% higher than a year ago. This measure more accurately reflects activity in categories with strong seasonal factors as they wash out any impact from front-loading. For example, shopping at general merchandise, electronics and clothing stores were up 14% to 30% in the fourth quarter of 2021 from the previous year despite slipping between 1.5% to 3% in December alone. Meanwhile, sales at online retailers such as Amazon grew by a slower 10.2% in the fourth quarter — suggesting that many shoppers were eager to return to brick-and-mortar stores.
What We're Watching …
This week and next we'll see updated readings of the housing market. Record-low inventories have faced strong demand, pushing prices higher for both new and existing homes. But with interest rates set to rise, the market may finally have reached a peak, as affordability wanes and even higher-income buyers are priced out of the market.
The National Association of Home Builders reported that homebuilders are more worried about shortages and rising costs of materials, as well as of labor, than about a lack of demand, but continually higher-priced homes will become unattainable for an ever-larger share of the buyer pool.
CoStar Economy is produced weekly by Christine Cooper, managing director and chief U.S. economist, and Rafael De Anda, associate director of CoStar Market Analytics in Los Angeles.