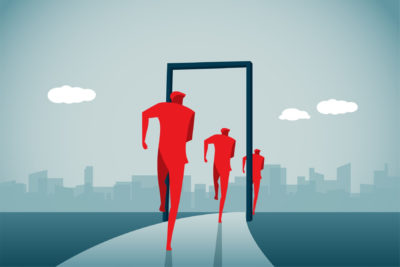 The Jobs Report We've Been Waiting For
It's long been thought that employment would surge once enhanced unemployment benefits, handed out to cushion the pain of the pandemic, were allowed to expire. While many unemployed workers may not yet be ready to return to work, last week's Employment Situation report showed robust hiring in October.
Nonfarm employment grew by 531,000 jobs, while September figures, which could have captured the immediate effect of expiring benefits in all states, were upwardly revised from 194,000 jobs to 312,000 jobs. In August, when just over two dozen states had already withdrawn enhanced unemployment benefits, nonfarm employment growth was revised higher from 366,000 jobs to 483,000 jobs.
Demand for services has been rising as restrictions are lifted and the economy more fully reopens. The nation's health crisis appears to be improving, with new COVID cases falling through September and October from the spike brought on by the delta variant. Schools are returning to in-person learning, large gatherings are becoming more common and tourism is making a comeback as travel restrictions ease. Firms in the accommodation and food services industry added 143,000 jobs in October, compared to 49,000 in September. Hotel bookings are up, and many more families are planning to travel this holiday season compared to last, so this industry may finally be on track for a fuller recovery.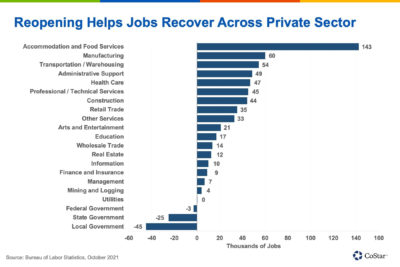 Factory employment, as well as transportation and warehousing, also experienced substantial gains. With supply-chain disruptions continuing, additional hiring in these sectors is welcome. Manufacturing employment grew by 60,000 positions in October as automobile production lines sprang back to life and inputs to all manner of durable and nondurable goods remained in strong demand. The return of air travel and commuters returning to bus and rail service added 25,000 positions, while 28,000 truckers and warehouse workers began new jobs during the month.
Sectors that tend to drive demand for office space are also experiencing growth. Administrative support, health care, and professional and technical services firms added a combined 143,000 jobs in October.
The unemployment rate fell to 4.6% in October from 4.8% in September and 5.2% in August.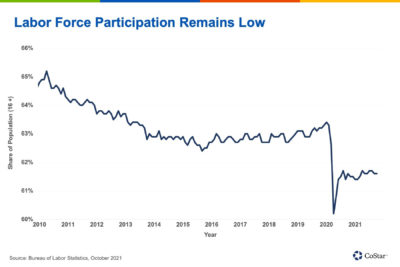 Not Everyone Is Back at Work
As a measure of the availability of labor, however, unemployment rates have been a poor barometer of late because of the sharp decline in labor force participation at the onset of the pandemic. Labor force participation for the population age 16 and over has remained stubbornly low for over a year, measuring 61.6% compared to 63.3% in February of 2020.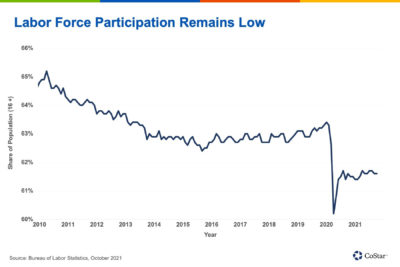 The labor force has fallen by almost 5.3 million during the pandemic. Some of that was expected, as members of the baby boom generation were already slated for retirement. But the pandemic appears to have hastened retirement for others who benefited from healthy household finances and rising asset values that could fund retirement life. Others who had worked prior to the pandemic remain sidelined due to childcare or other family care needs, or by concerns over exposure to COVID.
Workers could start returning in the coming months because job applicants are encountering favorable hiring conditions, at least in terms of wages. The Bureau of Labor Statistics reported that average weekly earnings grew by 4.6% year over year in October. Compared to the pre-pandemic growth trend, average weekly earnings are about 5.2% higher.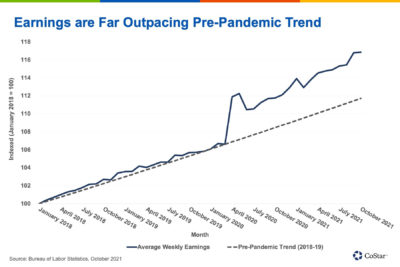 This is largely due to the mix of workers in the employment pool. Early 2020 saw massive job losses among leisure and hospitality businesses, as well as in retail industries, two sectors that tend to offer the lowest wages. Simply removing these cohorts from the sample raises the average earnings for those that remain. Still, the earnings trend — the slope of that line — has been increasing over the past few months as competition for labor pushes wages higher.
The largest gains in earnings have been in leisure and hospitality, which includes accommodation and food services as well as arts and entertainment. Here, average weekly wages grew by 12% year over year, but remain low at $500 per week. Despite recent job gains in the sector, employment is still more than 1 million positions short of pre-pandemic levels and demand for these services is rapidly returning. Employers are hoping to entice workers back to their prior positions as labor shortages constrain their ability to return to full service, but many former workers in the sector, after receiving a boost in income through enhanced unemployment benefits and other fiscal measures, took the opportunity to upskill for new occupations or to invest in new business ventures. New business formations have been at or close to record highs since mid-2020.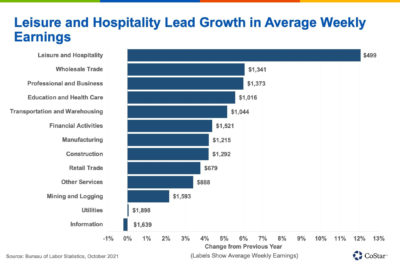 Wage Gains Appear Despite Less To Show for Them
Continued hiring doesn't mean that the new workers are pulling their weight. The Bureau of Labor Statistics reported last week that labor productivity fell by an annualized 5% in the third quarter of 2021, the slowest productivity growth since 1982.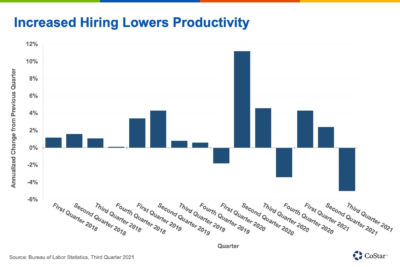 As we learned a few weeks ago , the spread of the delta variant in August and September held economic activity back, leading to slowing output growth. But hiring continued. The report noted that hours worked increased by 7.0% (annualized) while output grew by only 1.7%. While competition for labor drove compensation per hour higher by 2.9%, the fall in productivity led to an 8.3% increase in unit labor costs, or 4.8% higher than a year ago.
The mix of job growth by industries can have an impact on productivity growth. Firms in lower-productivity sectors, such as leisure and hospitality, have been hiring back more workers than higher-productivity sectors, such as information. However, faster technology adoption, strong investment in equipment and intellectual property, the acceleration of new business formation and still widespread remote working can all contribute to future productivity gains, which should keep higher unit labor costs from being passed on to consumers.
What We're Watching …
A lot of ink was spilled last month with the release of the Labor Department's Job Openings and Labor Turnover Survey report, which showed a record 4.3 million workers quit their jobs in August. Quits are typically a sign that workers are confident they can find another job, presumably more to their liking. That's probably true, as hires numbered 6.3 million in the month, a big figure but still fewer than July due mostly to slower hiring in education, accommodation and food services, and state and local government.
Quits rose the most in accommodation and food services, where competition for labor has been stiff. Job openings number 10.4 million, a bit fewer than in July, and expectations are for this number to fall again in September when an update is scheduled to be released on Friday. These numbers remain far higher than pre-COVID levels, strong enough to continue to draw more workers from the sidelines back into the labor market and ease wage pressures that could fuel faster inflation.
In reaction to signs of rising inflation, Federal Reserve Chair Jerome Powell reported last week that the Fed will begin reducing its asset purchases by $15 billion a month starting in November. If that rate of reduction is maintained, asset purchases will come to an end by June 2022, and analysts will be watching when rate hikes might begin. Powell has insisted that the two tools are not connected, but expectations are that rates would begin to rise in the second half of 2022.
Also widely watched should be the retail sales report for October, due next week. Consumers are likely to be in a hurry to spend on the holidays, starting their shopping early to get ahead of potential shortages and lock in purchases before inventories run out. Household finances in general are in great shape, and inflation will boost the nominal value of sales.
CoStar Economy is produced weekly by Christine Cooper, managing director and chief U.S. economist, and Rafael De Anda, associate director of CoStar Market Analytics in Los Angeles.